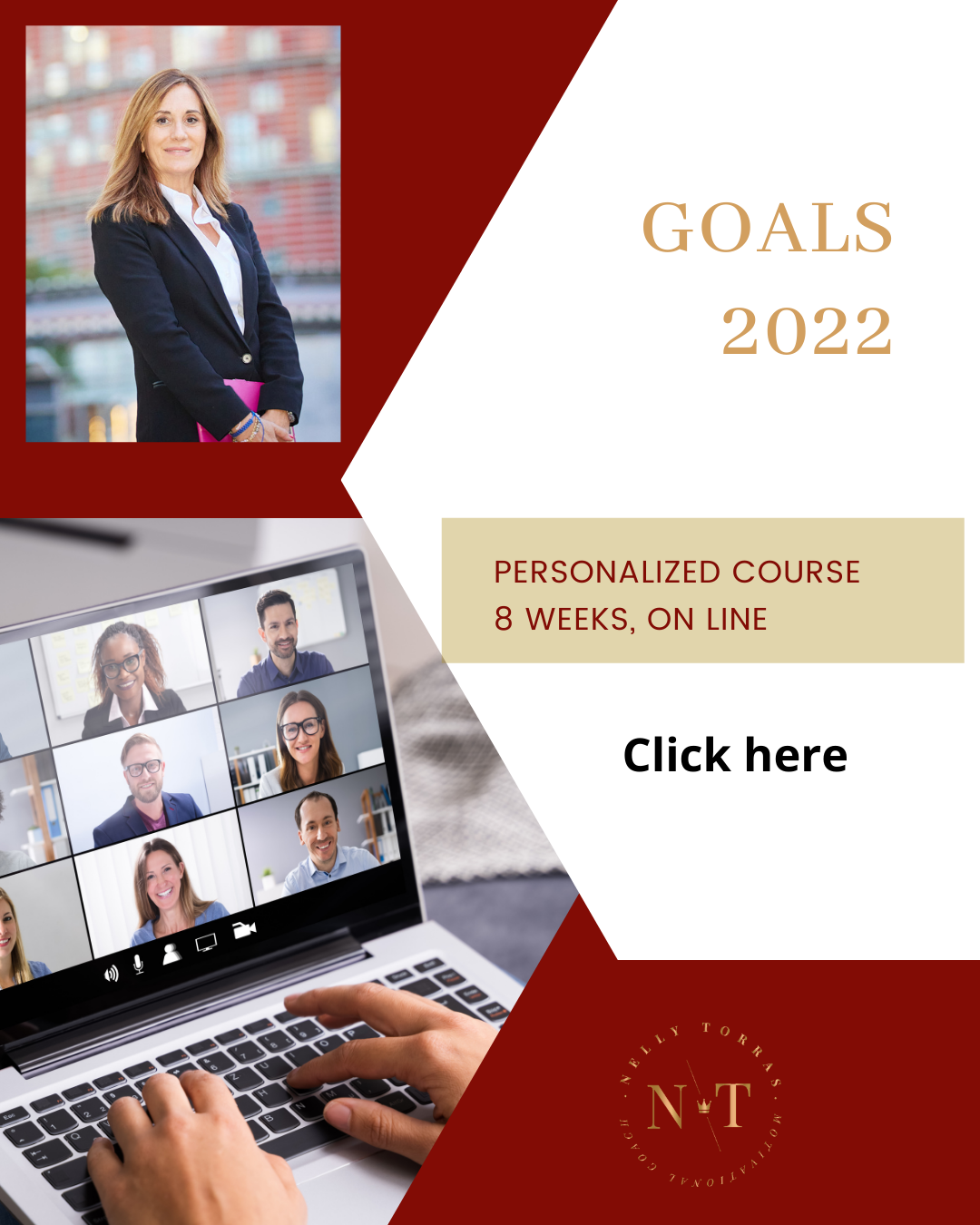 After two years with many uncertainties, new situations to face, some difficult, new challenges that arise, now is the time to stop, reflect and prepare for the new year. See what we have achieved, that we can improve and what we want to achieve. New objectives, goals and dreams.
This 8 session course is adressed Executives, Entrepreneurs, anyone who wants to take a step forward in their career, in their profession, in their work or personal relationships through a directed, personalized course to achieve the desired objectives and goals.
INTRODUCTION TO THE COURSE ( FREE EXPLANATORY CONSULTATION)
TAKE RESPONSIBILITY FOR YOUR LIFE. CREATE YOUR NEW VISION.
E+R= D (YOUR ATTITUDE)
IDENTIFY WHAT IS YOUR WHY, YOUR LIFE PURPOSE, YOUR CAREER.
WHERE YOU ARE
DISCOVER YOUR STRENGTHS AND GIVE YOUR BEST.
WHAT YOU NEED TO CHANGE TO ACHIEVE WHAT YOU WANT.
HOW YOU SET YOUR GOALS.
PROPERLY MANAGE YOUR TIME.
ACT, DON'T STOP.
EVALUATE YOUR PROGRESS DAY BY DAY TO BE IN LINE WITH WHAT YOU WANT. COACHING, MENTORING.
WHAT ARE YOU GOING TO ACHIEVE WITH THIS MENTORING COURSE?
PROVEN RESULTS
You will learn to be responsible for your life and its results.
You will be clearer about what you want and where you are going.
You will learn to set goals intelligently.
You will identify what you really want.
You'll find out what thoughts and behaviors limit you.
You will feel that you have more power over your life and more ability to achieve your goals.
It will increase your level of consciousness and you will have more clarity in decision making.
It will begin your path to a new reality that will be directed from you because you will be the one who creates it with the strategies that I am going to teach you.
REGISTER TO : info@nellytorras.com  or a whats app chat .
This is an exclusive course to make  a Work-Life Balance, settle down and go for your goals. Register to have a complementary zoom call and show you how I can support you in your journey. Also through Whats app +34 657971463. (Barcelona, Spain).
Register to the course applaying to info@nellytorras.com